ACI Performance Category Summary
Report a minimum of 5 measures
Scoring is based on patient engagement and information exchange
Flexible scoring introduced for all measures to promote care coordination for better outcomes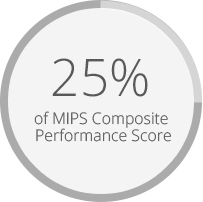 Key Terms for Understanding ACI
There are a total of 155 points available in the ACI category. To receive full credit, you must accumulate
100 points in this category.
Base Score [50 possible points]:
To receive the full base score, providers must report on the following measures:
E-Prescribing
Provide Patient Access to Their Data
Send Summary of Care via HIE
Request/Accept Summary of Care
Failure to meet all of the requirements for the base score will earn a provider an ACI category score of zero, and preclude him or her from achieving any additional points through the performance score.
Performance Score [90 possible points]:
Providers can earn bonus points for achievement on certain measures that they can choose to report. Each measure can earn up to 10 points, depending on which decile the performance falls under.
For example, providers have the option to report on participation in an immunization registry for 10 points toward the performance score.
Bonus points [15 possible points]:
Providers have the opportunity to earn 5 bonus points for reporting to each additional registry —including a clinical data registry, such as IRIS. Providers can also earn up to 15 bonus points by reporting the Improvement Activities using CEHRT.
Stay up to date with the
latest in MACRA and MIPS.
CureMD newsletter is a free weekly news source, connecting you
to the latest medical operation, technology and compliance.